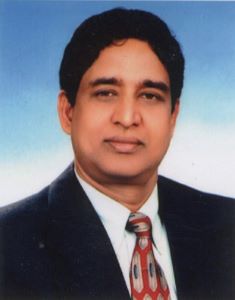 Dr Muhammad Abdur Razzaque, MP
Honourable Minister
Ministry of Agriculture
Government of the People's Republic of Bangladesh
Dr Muhammad Abdur Razzaque, M.P. has risen from the role of a freedom fighter struggling for Bangladesh's independence from Pakistan in 1971 to become the Minister of the People's Republic of Bangladesh in three different Ministries: Food and Disaster Management (2009-2012), Food (2012-2014), and Agriculture (2018 to till date).
Dr. Razzaque, son of late Md. Jalal Uddin and Mrs. Rajia Khatun, born in a respectable Muslim family in Dhanbari of Tangail district in 01 February 1950, did his B.Sc (Agriculture) in 1972 and M.Sc (Agriculture) in 1973 from Bangladesh Agricultural University (BAU), Mymensingh. He did his Ph.D in Agronomy in 1983 from Purdue University, a very renowned university in USA.
Dr. Razzaque started his professional career as a Scientific Officer of Bangladesh Agricultural Research Council (BARC), Dhaka, the apex organization of National Agricultural Research System (NARS) and eventually was promoted to the rank of Chief Scientific Officer. During his research career, he served as the national coordinator of Integrated Farming System Research and Development and influenced agricultural policy and research to a great extent. He is one of the authors of the famous book titled `Methodology Guidelines for Farming Systems Research and Development in Bangladesh' published by BARC. He was assigned as editors of different scientific documents produced by BARC during his research career. He has in his good name a number of research papers published in famous Journals in home and abroad.
A life-long political campaigner, Dr. Razzaque started his political career from student life. During his academic years at BAU he took part in 6 and 11-point mass movements in 1969 against the then Pakistani regime and was arrested. He contributed greatly towards uplifting the ideology of Bangabandhu Sheikh Mujibur Rahman and steered the 'Bangladesh Chatra League', the student front of Bangladesh Awami League at BAU, as its General Secretary and President successively. During this time he demonstrated his courage and devotion to nation as a freedom fighter in the Bangladesh Liberation War in 1971, when he fought against the Pakistan army in the greater Tangail front as a Company Commander. He was also elected as the General Secretary of Bangladesh Agricultural University Students Union during 1972-73. He was member of Jubo Front of Bangladesh Krishok Sramik League (Bakshal) which was formed by Father of the Nation Bangabandhu Sheikh Mujibur Rahmanm in 1975.
Later, during his professional career, he was also elected the General Secretary of the Bangladesh Krishibid Institution in 1996-97, the professional body of the agriculturists' community. In both the portfolio he worked very hard for the welfare of the students and agriculture professionals. A leader of professionals, he was one of the top four organizers of 'Janatar Mancha' (People's Podium) against the unilateral election of the then BNP regime in 15 February 1996.
A much-admired politician, Dr. Razzaque contested in the Parliamentary Election held in 2001, 2008, 2014 and 2018 from Tangail-1 constituency (Modhupur-Dhanbari Upazila) as a candidate of Bangladesh Awami League and was elected as the Member of the Parliament for four consecutive terms. Apart from his portfolios as Ministers, he also served as the Agriculture and Cooperative Secretary of Central Executive Committee of Bangladesh Awami League during 2002 -2015 for 3 consecutive terms, the Member of the Parliamentary Standing Committee for Ministry of Agriculture, Member of Standing Committee on Estimate and the Chairman of Parliamentary Standing Committee for Ministry of Finance. Dr. Razzaque has also been contributing as a Presidium Member of Bangladesh Awami League Central Committee, the highest policy and decision making body, since 2016. He is one of the members of Nomination Board (Parliamentary Board) for selection of Member of Parliament candidates for the party. He is also member of Nomination Board for selecting candidates of the party for Local Government at various tiers including City Corporations.
An architect of social institutions, Dr Razzaque dedicated his thoughts in the upliftment of a number of institutions/institutional reforms. During his tenure as General Secretary of Bangladesh Agriculture University Students Union, Bangabandhu enhanced the rank and status of agriculturists as the 1st class gazetted officer when he visited BAU in 13th February 1973. Under his initiatives as Minister, the 100-day employment generation program (EGP) was launched and National Plan for Disaster Management in 2010, National Food Policy Plan of Action (2008-2015), Country Investment Plan 2011 and Bangladesh Food Safety Act 2013 were formulated. Bangladesh National Food safety Authority was established under his auspices. In food management he worked for self sufficiency and food safety, in disaster management he worked for scientific and standardized approach for risk management and in agriculture he is currently working for enhancing mechanization, agro-processing, value addition and export market development, commercialization and farmers' profitability.
From very early of his student life Dr. Razzaque has engaged himself in the socio-economic development of his area Madhupur-Dhanbari. He played a leading role in establishing the Pragati Sangha (Club) in his village Mushuddi in 1968. With initiative of this club, Mushuddi High School was founded in 1969, which was first secondary level educational institute in the area. Establishing Dhanbari as a full-fledged Upazila was a long-cherished dream of the local people. Dr. Razzaque played the leading role to establish Dhanbari as an Upazila. At present, Dhanbari has emerged as an economic hub of the area. During his tenure as MP and Minister he has founded a number of educational institutes (Schools and Colleges). A sweet personality, Dr Razzaque's works have been highly lauded within and outside the country. He was awarded the DAA (Distinguished Agriculture Alumni) Award in 2013 by Purdue University.
As public figure he visited USA, UK, China, EU countries, ASEAN countries, AFU countries and countries of SAARC region. He contributed to the establishment of SAARC Food Bank and formulation of SAARC and BIMSTEC disaster framework.
In his family life Dr Razzque is blessed with two sons and one daughter. His wife Mrs. Shirin Akhter Banu is an academician serving as the Principal of Abu Dharr Gifari College, Dhaka. His elder son Mr. Rezwan Shahriar Sumit has completed his Bachelor in Business Administration from IBA of University of Dhaka and Masters in Filmmaking from Tisce School of Arts and Films of New York University (NYU), USA. His first feature film will be released very soon. Second son Rezwan Shahnewaz Sujit completed MBA and working for a Bank (Dutch Bangla Bank). Only daughter Rezwana Rosen Razzaque is currently doing her Bachelor Degree (4th year) in Electrical and Electronics Engineering in the Islamic University of Technology (IUT).